The oxidation by lack of use spends much more the tools that the own work
Benjamin Franklin
Today I want to make a brief review of the essential support tools to work on organic search engine positioning . It is essential to use the tools at our disposal to streamline processes and ensure that our SEO strategy comes to fruition. I've promised myself that in this post I would not roll up so I'm going to the point …
1. Google Search Console
The webmasters tool suite (previously known as Google Webmaster Tools) from Google, offers us the best features to optimize our website from the SEO point of view. The most interesting for me:
Indexing status of our page
Search traffic
Links discovered to our site
Technical errors (tracking, sitemap, robots.txt … etc)
Security issues
Manual penalties
Mobile usability errors
You can start with Google Search Console here .
2. Google Analytics
The perfect complement to Google Search Console , the ideal tool to measure the behavior of users who come to our website. A tool that has grown and currently offers us an incredible amount of information to be free. For highlighting some of its functions:
Source of our visits (organic positioning, payment, direct visits to our URL, references on other websites, social networks … etc)
Behavior of visitors (pages that they see per session, average duration of the visit, how many leave without interacting with the web)
Queries by which we appear in the search results
Path of the user to achieve the marked objective
Events (such as clicking on a banner)
Demographics
I recommend that you link Google Search Console and Google Analytics. The Google Analytics insertion code will be found by registering on this link .
3. Ubbersuggest
Great tool, which allows us to collect different variations of keywords , which are searched on the network. With it we can find new ideas of words that interest users. You can see a more detailed explanation in my article on how" to do a study of key phrases> .
4. Google Keyword Planner
To choose the keywords that you are going to use in SEO you can use Google's keyword planner , which is designed for SEM but is an essential support in the study of keywords . Here we find estimates of the number of monthly searches and competition (high, low or average) for the keywords we are evaluating, as well as new words related to the pre-selected ones. The best thing is that you can download them in an Excel and sort them by the criteria shown to make it easier to select.
I leave the access link .
5. Google Trends
Do you want to know what people are looking for online? Use Google Trends to have a global perspective on what matters. The most important thing is that you can cover a very broad period that will allow you to see the trend , segment by country and compare with other terms, to see the evolution.
I leave the link to start using Google Trends .
6. Dareboost
One of the best online tools to measure the performance of a website , one of the most important factors they are taking lately in the face of search engines. In addition to telling us the weight and load time of the web, it gives us some parameters by which we can improve from the SEO point of view, as well as accessibility, security … etc.
You can access Dareboost here .
7. PageSpeed ​​Insights
Once again, Google itself gives us an assistance tool to improve performance. With it we can analyze online the speed of a web on mobile devices and PCs. It tells us how the content is displayed, the upload speed, whether the download of files is efficient or not, the user experience … etc. Ideas to improve performance significantly.
Access to this tool you will find in this link .
8. Siteliner
With Siteliner you can check key factors of your content that can affect the relevance of your website in search engines. This tool examines duplicate content (eye on the use of tags that can generate duplicate content), broken links (broken links), the most powerful pages on your site for crawling robots, blocking pages in robots.txt , the existence or lack of sitemap.xml … etc.
Here is the Siteliner tool .
9. Broken Link Check
It is an online tool, which allows us to directly know the broken links of the domain that we introduce to analyze. Very useful when we only need to know the broken links either while we optimize our page or to find the broken links of a domain offering to replace them with links to our contents.
I leave the link to access Broken Link Checker.
10. MozBar
It is an extension that we can easily install in our browser to check some quality parameters of the websites we visit, created by the well-known consultancy Moz. Metrics such as the Domain Authority or Domain Authority (value between 0 and 100 for the entire website), the Authority of the Page or Page Authority (value between 0 and 100 of the specific page that we are visiting) or the Spam or Spam Score Score (value between 1 and 17 that indicates the possibilities that a website has to be classified as spam), will help us estimate the value that search engines can give to a website. The Moz bar allows you to see these metrics in real time on the websites that we visit and those that appear in the search results.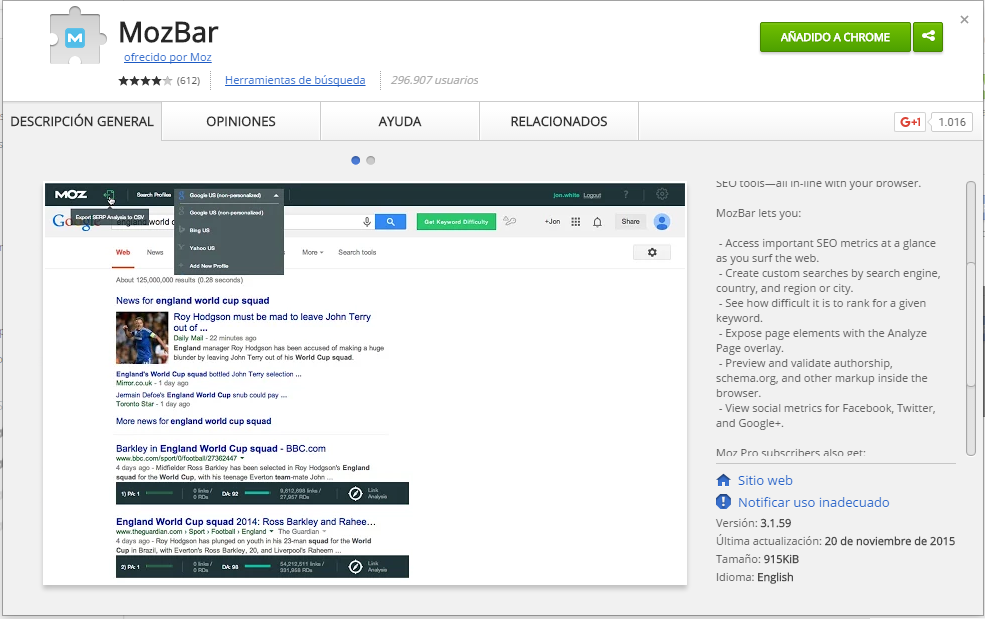 In addition to the free version that you can easily add to your browser, they have a paid version that offers a large number of additional functions essential for SEO.
11. Open Site Explorer
Also owned by Moz , Open Site Explorer is an online tool for searching incoming links , backlinks. It shows us the profile of links of any domain, either from the competition (to find new opportunities that we can use) or from our own (to discover links from those that are pointing to our domain may be harmful). Once again, if we do not pay, it is a bit limited since it does not allow us to export the information and we will find only a percentage of the backlinks. But still it is a good support that we can complement with other tools.
You can use Open Site Explorer here .
12. Ahrefs
One of the tools that can complement the work of Open Site Explorer is Ahrefs , which also shows us the profile of links for a given domain. This tool has changed a lot in its latest version (once again with the objective of paying), and now we are very limited in the number of incoming links that we can consult.
In the free version of Ahrefs we can see a very elegant summary of the links profile of a domain with a panel that summarizes in figures the data of incoming links. But if we try to see what the links are, we can only see a very small percentage. The good thing is that, although this tool is used mainly for links, it can also be used to check the health of the domain with signs such as performance, the response codes of the page when it is tracked … etc.
These two tools of search of backlinks that I have shown you, do not always give us 100% of the links , so I advise you to combine them to obtain the widest possible list.
13. Rank Checker
In this case of a plugin to check the evolution of positions of a list of keywords that only exists for Firefox , in Chrome forget it. But I assure you that it is worth it because it is one of the most precise tools when it comes to viewing positions with which you can check several browsers (Google, Yahoo and Bing). It also allows you to save or export the results. You have to register in SEOBook to get the installation link.
To start using this tool enter here .
14. SEO Doctor
Again a plugin for Firefox that in this case allows us to do an SEO audit to the page on which we are. It gives you an idea of SEO parameters to correct as loading time, ALT attributes in images, header tags, internal link structure, meta description, if the page is indexable … etc. It is a great help for developers in the optimization of a website, to check at a glance the most important outstanding issues and see that nothing escapes.
15. Open SEO Stats
But not all extensions are made for Firefox, Open SEO Stats is an extension that we can install in Google Chrome to know very relevant information on the SEO status of our page. This extension was previously called PageRank Status , as you can imagine is focused on monitoring the score received in the different rankings (Google PageRank, AlexaRank …), but also now gives us very important information such as:
– Traffic statistics
– Load speed
– Backlinks
– Robots.txt
– Sitemap.xml
– Number of external and internal links
– Header and meta tags
16. Similarweb
It shows a detailed report of the traffic received by a website in the last 6 months, divided by types (reference, direct, search …), as in the acquisition section of Google Analytics. Be careful, it has to be a consolidated web page from which these data can be extracted.
This is the Similarweb link .
17. Screaming Frog
Screaming Frog is a desktop application designed to do an OnPage analysis . It works like any of the search robots, tracking your site to see the status of each of the pages that comprise it. You can see the pages that are served correctly, the ones that give 404 error, as well as the broken links, the titles of each page, metatags, headers and in general all the technical parameters of SEO optimization. Another way to do a highly recommended audit for sites with many pages, as is the case of ecommerce.
Here is the download link for Screaming Frog .
18. Xenu
It is the tool that competes against Screaming Frog, Xenu offers us an x-ray of the pages that make up our site doing once again the tracking. One of the best tools, above all, to monitor the profile of incoming and outgoing links on your website. It is also necessary to install it on your PC.
To download Xenu enter here .
19. Free Monitor for Google
If you want a desktop tool like the previous ones to control the evolution of positions of your keywords , the answer is Free Monitor for Google . It presents in a very graphic way the current position and the difference with respect to the previous analysis.
I leave the download link .
20. LinkDetox
Powerful tool to recover from a penalty . If you have done bad SEO practices, with spam links and Google has penalized you manually I recommend buying this tool. Classify the incoming links by levels of toxicity and even offers you the email of many of the webmasters of the pages that link you, so that you request that they eliminate it.
In the following link you can start using LinkDetox .
21. Webnauts
A very complete online tool, which among others has an SEO function to discover the health of a domain that we introduce. With it, we can see the response times of the server where our website is hosted, the indexability, the density of keywords … etc. You can browse your site with Webnauts here .
22. W3C Validator
If you have doubts about the quality of your HTML code, something that influences the performance of your website, W3C validator will give you some clues.
23. Schema Validator – Structured Data Testing Tool
It allows us to check if our website has correctly implemented structured data with the Schem.org model. I leave the link here .
24. Talker Alerts
Although it is not a SEO tool itself, it will help us find publications on the web about topics related to our keywords . Thus we will find new platforms where to insert links, new trends and topics that interest in the sector which we can touch on our website.
Start creating your alerts here .
25. Boardreader
To check what is said in forums on a given topic. Very useful to discover new places to insert links. Boardreader is a different search engine.
26. Spamhaus
An online tool to know if your IP (the one on your website) is on a spam list . It is important that search engines do not link us with any Spam list. I leave the link to the Spamhaus Blocklist .
27. URIValet
To check the status of http headers and thus check SEO issues as useful as the status of a redirect . A fundamental tool for developers. Enter the URL of your website in URIValet if you want to see how it works.
28. Woorank
This plugin is compatible with the main web browsers and what it does is an online web audit . With many interesting parameters such as:
Traffic estimation
Visibility in local directories
Number of backlinks
Location of your IP
Loading time
Domain availability (when domains with the same name but different TLDs expire or are available)
Implementation of structured data
29. SEMRush
This has to be necessarily one of the last tool to explain because it is the most complete . And it offers us solutions for most of the issues we address with the other tools that we have just reviewed. Of course, as long as you are willing to pay € 69.95 (a good psychological price) that costs a month. Among the main functionalities:
Keyword research
Evolution of positions
Backlinks
Analysis of the competition
OnPage SEO Audit
But you better read my SEMRush" tutorial> , where I explain in detail how it works.
30. Sistrix
It is the main competitor of SEMRush , with some features that improve it, such as Link Assitant, which offers a function that is very comparable to Link Detox (to recover from a penalty of artificial links). With a control panel a little more complete and a cleaner and visual interface. But more expensive than SEMRush, so if you do not have any penalty, it is more profitable to have SEMRush.
I leave you once the link to Sistrix .
Bonus
SEOBox
A new SEO tool that has caused furor lately. And it's about a! Hardware! Yes, it is a device that you can physically connect to your computer as you would with an external hard drive. It presents the following features:
Rankbox : To monitor the evolution of positions
CachéBox : To know how often Google crawls your web page
CTR-UX-Box : To emulate the behavior of visits and thus optimize the page
GeoBox : To monitor positions according to geographical location
Of course, the one that I find most differentiating is that of CTR-UX for the user experience, which emulates the navigation of the web page. It is also very interesting the cacheBox module, which is something that is rarely evaluated and yet is a great indicator of how relevant your search engine page is.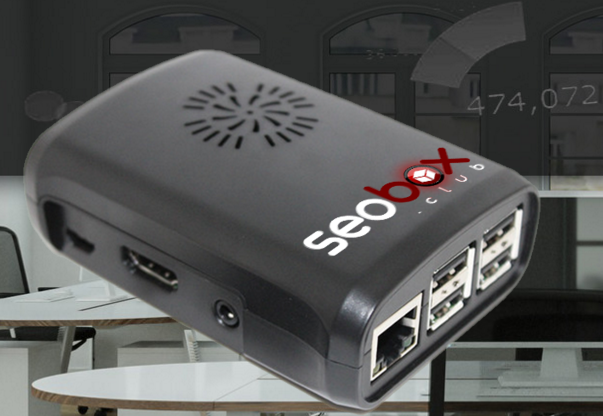 As I have not tried it yet I can not tell you how good or bad it is, but I leave you a great SEOBox analysis by Dean Romero .
Google Tag Manager
The best way to know the behavior of users on your website by creating tagged events. And best of all, without touching any code! With what you do not need the help of a programmer. It lets you know what elements of your web page your visitors have clicked on (a banner, a video, a form …). In this post I tell you how" to start using google tag manager> .
Excel
Yes, even if it is not an SEO tool, it can save us hours of work. How? For example when examining backlinks, from a huge list of URLs we can filter and stay only with the unique domains. Also when we are doing a study" of keywords> to sort the words by which they have more searches and less competition.
WordPress Plugins for SEO
If you use WordPress you will be thinking that I have not mentioned some plugins that are of great help in SEO. Well so that they do not miss, these are some of the most practical:
Yoast SEO : It allows you among other things to edit the meta tags of your pages, edit files like sitemap.xml, robots.txt or htaccess
WP Super Caché or W3C Total Caché : To improve the performance of your wordpress site. For example it allows you to enable the famous compression of files on the server and the use of cache.
404 Page : It helps you create a custom 404 error page, to show the user when the server does not find the requested page and allow it to continue browsing.
I hope you enjoyed the review of the main tools you can use for SEO. If I have escaped any, I hope to see your suggestion in the comments 😉
Cover image from Freepik vector
( 1 votes, average: 5.00 out of 5)

Loading…