I often meet people who say to me: "Luis, I want to appear on the front page of Google when people look for this word …". Maybe the word is … I do not know … something easy like "buy laptop" or "buy clothes online". Finally if you have not detected the ironic tone I will explain the reasons for a study of key phrases .
Why do a study of key phrases?
When you want your web page to appear in the Google results for one or several specific words, first you must ask yourself why these and not others? Is there a market? Is it affordable? And we can find two possibilities:
1- High Competition
In cases like the ones I mentioned in the introduction, such generic and succulent words, that are taken by the giants of each sector (MediaMarkt and Zalando in the example), and therefore it is unfeasible that we can get to position them if we are not that level. These are words with too high a competence, which we must discard but we want to waste efforts and money.
2- Non-existent market
The opposite case can also occur with words that do not have much competition, but because there is no market directly. I'm going to give you a nice example so that you understand it better (you'll like it more if you're one of those who have followed the series "How I Met Your Mother"). In the video that you can see below, one of the protagonists of the comedy series, Barney Stinson, used a very curious trick, which has to do with searches, to trick the girls:
You've seen? Have you noticed how he manages to get the girl to find him quickly on Google so that he thinks he is a famous astronaut? The answer is simple, all the fake articles will appear because it is a strange name, "Lorenzo Von Matterhorn", which has no competition when it comes to appear in search engines.
Therefore, there is a factor that we also have to look at: searches . Finding a term that not only has low competition but is a market that exists and has searches.
On the other hand, it is possible that you have a new product or concept, so new that at the moment you do not have searches because it is a market that is about to arrive. This is somewhat complicated and dangerous, but if you are one of those brave entrepreneurs and innovators, I recommend that you see the trend of similar or related products to attract users who may also be interested in yours.
The conclusion is that you should look for words with affordable competition and also have some searches that allow you to earn money. The more specific a term, the more chances you have to make it profitable because, in addition to having less competition, you will attract users who want what you have (so they are likely to buy or contract your services).
If you hit the key, it will not be necessary for your words to have a high volume of searches to make money, but enough will be enough to sell your product based on your goals. Let's see how …
How to do a study of key phrases?
BrainStorming
The first thing you will do is a brainstorm with key phrases of at least 3 words. For example "hire photographer events". How much longer (what is known as long" tail> ) easier to position. First because it will have less competition and secondly because when using them in your content, the key phrase itself can contain other shorter ones that you will be reinforcing. But do not go over the length, just take phrases of 3 words to start, now you will see how to refine the choice of words and expand the list.
You will start from a small list, 10 sentences to begin with may be fine and you will expand it to 50 – 100 words. How? In the following phases and with the following tools:
Ubersuggest
This tool offers suggestions of words that are searched in the search engines from a base term to which you add words that you classify by the beginning letter. For example, if I introduce "web positioning" I would get these results among others:
So, in addition to having an extensive list, for each term I can also consult terms related to the guarantee that they have searches. As you see each term and its related, you can add those that interest you to a list by clicking on the "+" icon, so that when you finish you can copy them all and save them in a text editor, an Excel sheet ( what I recommend) or similar. Simply by clicking on the "Get" button you will have them on screen.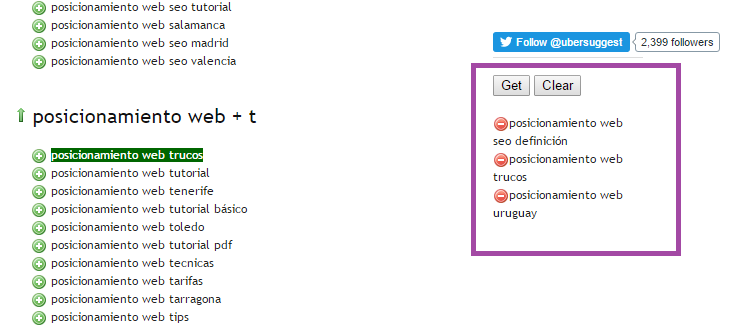 Let's get at least another 10-20 terms related to our first list of 10. A quick way to expand the list of terms is to use the Google Instant feature that suggests terms with a large volume of searches from the words that You are entering in the search engine.
There is a trick that is to add the operator * as prefix or suffix of the words you are looking for to tell you what suggestions to put in front or behind the term that interests you 😉
2. Google Keyword Planner
Now that we have a broader list we will check the searches they have and find new interesting terms. For this we go to the keyword planner that Google offers for its Google Adwords customers.
First we will get data and trends of the volume of searches and enter the keywords that we have selected.
In this section you should review the Segmentation and Period filters, let's see:
To start you can choose the geolocation , in this case I have Spain. Keep in mind that the wider the location, the easier it is to obtain statistics.
The type of search engine gives you a choice between the classic Google search engine and Google partners (YouTube, Maps, Google Scholar …).
The negative keywords are focused on Google Adwords, it is used to include words that we would not want the ad to be shown to. This does not interest us for organic positioning that concerns us.
We go with period , a very useful option in the case that the term does not have many searches for the last 12 months, which can be used to check if in a previous period it had a higher or lower volume (to see if the trend is of rise or decline).
We will obtain a list with the data of significant searches that we can export in a file compatible with Excel through the download button.
As you can see, sometimes a script appears, which means that Google does not have enough data to determine the average volume of searches. Although in the screenshots we have taken a very small sample of words, now we would have a list of about 30 words on which we can see the search volume and know if we want to discard any.
Opportunities identification
But in addition, with the Google planner, we can discover new interesting words (opportunities that we had not contemplated) by going back to the Tools home page and selecting Search for New Keywords using a phrase, website or category:
Just by entering your domain, the category of the product or (and this is interesting) the words you had pre-selected you will get related keywords that can have an interesting volume of searches. I recommend that you always focus on words that have a volume greater than 100, although depending on your competition and your conversion rate (how many of your visitors buy or request a quote) a smaller volume may be interesting.
Now you will have a large list that you can download again in an Excel compatible file.
Final selection
The next step is to choose the keywords we are going to work on. For this final selection, the first thing you must do is add the list of the last document downloaded to the previous list and work with basic Excel utilities. The next step is to sort them by Search volume (from highest to lowest) and Competition (from lowest to highest), as you can see in the example:
Although the data is in English I think it is well understood: Avg. Monthly Search for Monthly Volume of Searches and Competition is the value (between 0 and 1) of the competition. If it does not let you order from highest to lowest is because the format is not numeric (you can change it in the second button).
Now that you can see at a glance the most interesting keywords by having many searches and little competition comes the time to choose. For which I am going to give you 3 recommendations:
Take into account the user's search intention (what do you want to find with those queries)?
Use a little personal criteria (knowledge of your business, intuition … etc.).
Lean on Google Trends to see the search trend for each term.
You would have your Keyword Research ready. How about? Simple, right?
( 1 votes, average: 5.00 out of 5)

Loading…